Why Does My Golf Club Keep Twisting?
Golf tips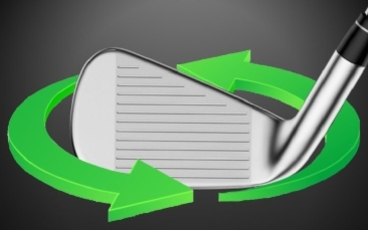 In this short article, I'm going to show you something that tends to shock a lot of golfers – and I'll keep it short for you.
---
One of the most common complaints I get on the lesson tee is "I keep twisting the club at impact". This complaint usually occurs right after a bad shot that loses a lot of distance. The player genuinely believes that they are twisting the club and causing the bad shot. However, it actually works in reverse.
You see, in most cases, the twisting they are feeling at impact is due to a poor strike on the face (a toe or a heel shot). Take a look at the below pictures of a slow motion club-ball impact where the toe of the club was struck.
If you don't believe these pictures, you can review the actual slow-motion video here.
This twisting
reduces distance
can make the shots go unpredictably offline (with bigger-headed clubs like the driver)
and make the impact feel horrible
Most golfers then try to fix the twisting by holding the club tighter, but this just introduces new issues and can make you lose speed.
Don't fix the twisting – fix the reason why the club is twisting.
In other words, the next time you feel that twisting, you likely need to improve your strike quality.
Strike It Like The Pros
If you want to get better at striking the ball, The Strike Plan is the most comprehensive program to help you;
hit the sweet spot more often
strike the ball and turf just like the pros
increase distance
improve distance control
hit more greens
lower your scores