Video Tip: Lower Body Hip Acceleration Drill
Practice / Drills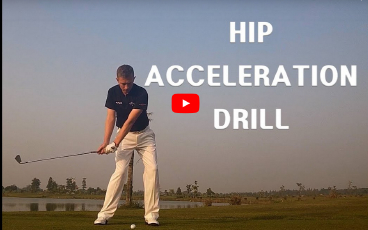 Two of the most common faults are when either the clubhead moves first, or the upper body moves first to start the downswing. The cure is to learn to accelerate your hips to start the downswing with rotation and weight transfer and improve your downs
---
Two of the most common faults are when either the clubhead moves first, or the upper body moves first to start the downswing. These faults can create all sorts of problems, such as Over the Top, Chicken Wing, Hanging Back, Early Extension, a steep downswing, loss of club head speed, pull shots, poor contact (fat shots, thin shots), high weak ball flight and possibly Shanking. The cure is to learn to accelerate your hips to start the downswing with rotation and weight transfer, improving your downswing sequence. Take a moment to watch this video, where I explain a drill "waist high swings" to get your lower body leading the downswing.
Lower Body Hip Acceleration Drill
Swing back to where the club is at waist high and stop.
Learn to sequence your swing from this position. Keeping your shoulders, arms and club stationary, rotate your hips and transfer your weight. In doing this, you should feel separation between your upper body and lower body.
Perhaps, pump your hips a few times, and then, when striking the ball, let your shoulder, then arm and lastly the club follow the lead of your hips.
If you have done it correctly, you should be able to compress the ball and still create some speed.
It might take you time to do it correctly, but keep trying until you can, because when you can, there is no doubt you will have learnt how to start your downswing.
Watch a video HERE.