Putting Practice Routine
Practice / Drills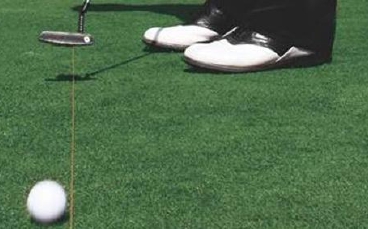 What is the difference between good and bad putter? Why are there millions of golfers who practice putting, and are not getting better at putting? The answer is in the way they are practicing. Robin Symes presents 3 ways to improve your putting.
---
First off, I would like to credit this article to Colin Howe. He is a putting coach from the UK, living in central Europe, and has worked with many of Europe's top players, solely on putting. I have been very interested in his thoughts on the differences in how good putters and bad putters practice.
Think about it. In most things in life, the more do you do something, the better you will get at it. Play more tennis, and you will become a better tennis player. Run every day, and you will become a better runner. Practice your baseball pitch and catching, and you become better and throwing and catching. But why are there millions of golfers who practice putting a lot, and yet are not getting better at putting? In fact, many are slowly getting worse. The answer is in the way they are practicing.
From his 20 years of experience teaching putting, he has seen that good putters putting practice is very simple. They only spend their time in 3 different ways. Below, I will explain in detail how you can practice in the same way as they do. Also, I have suggested how much time you should spend on the 3 areas of practice, based on a practice time of 1hr. If your time is less or more, simply keep the same ratio.
1) Drill – 25mins
Chose a putt 3-4m in length (not shorter), on a straight line to the hole, or a tee in the green.
You can work on the technique of your stroke, but every putt you hit you should focus on the centre of the hole, or on the tee you have placed in the green. As you can see, I am putting towards a hole, but I have placed a tee behind to narrow my focus on the centre of the hole cup.
You can use as many balls as you like.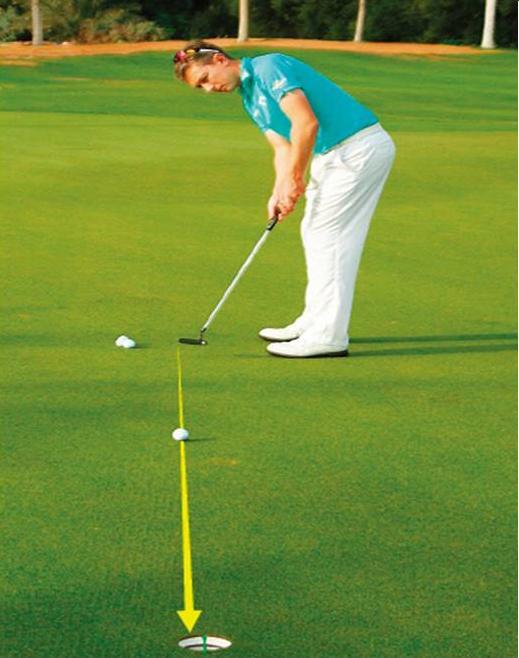 Benefit – Keeping the putt to 3-4m in length will ensure that you develop nice tempo to your stroke. Players who practice a lot of very short putts will develop very slow tempos, which is not something that will improve your putting. Too slow is hard to repeat and be consistent with. Also, because the putt is straight, you are getting quality feedback. If you are making most of the putts, you know your stroke is good. If you are missing right or left consistently you know it is not a miss read, because the putt is straight, so you can now search for the problem. A putting stroke is not a complicated technique. It will not take you long to work out why you are pushing and pulling. Lastly, by focusing with every putt on the centre of the hole, you are training your target awareness. This is what good putters have – great target awareness. If you cannot go to the practice green, this is something you can practice at home.
2) Random practice – 25mins
Take 1 ball and hit different putts every time, with the focus being to try and make the putt.
Every putt you hit you should have a full routine, as if you where on the course playing a tournament.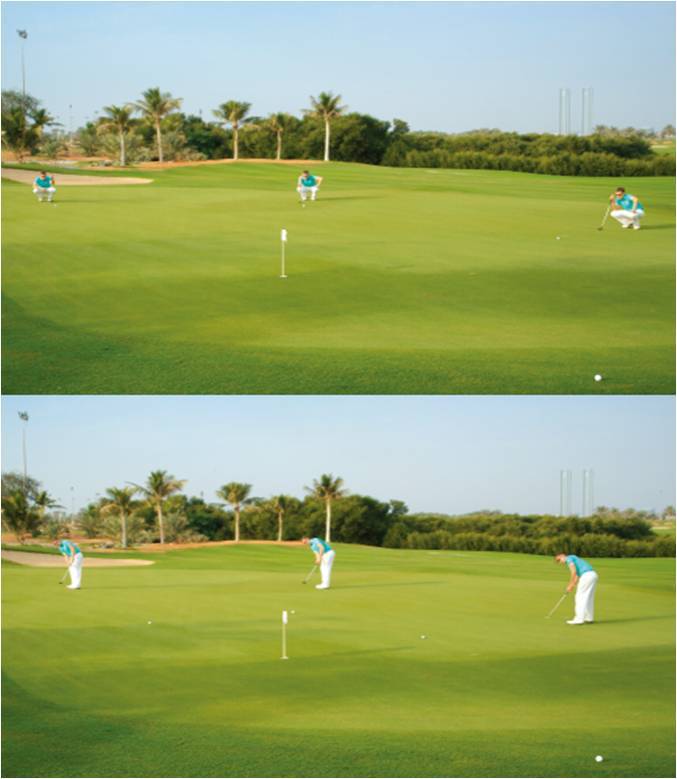 Benefit – If you are going to play 18 holes tomorrow, can you tell me what kind of putts you will have? No chance. It is totally random, and that's why your practice should be the same. You never get 2 chances on the course, so you should not get 2 chances in your practice. Players will normally stand with 3 balls on the practice green because they buy balls in packs of 3! They will keep hitting the same putt until they can make it, but in this practice they are learning nothing. Basically, what they are doing is hitting the 1st putt and seeing the ball rolling down the green. From this, they will learn how much the ball breaks and adjust their aim for the 2nd and 3rd ball – perhaps making 1 of these putts. They are training themselves to miss the 1st ball, and make the 2nd or 3rd ball. This has no connection with putting on a course. You must train yourself to read a green and make the 1st ball.
3) Game – 10mins
Play a game against your friend.
Benefit – This is the same as random practice with the same benefits, but with the added feeling of pressure. You feel pressure on the course trying to keep your score low, so you should try and simulate the same feeling in your practice. Kids get better at putting fast because they love playing games. As players get older, they stop playing games because they think that they should make their practice more serious. This is one of the reasons adults stop improving at putting. This is not only a fun way to practice, but also a very good way to practice!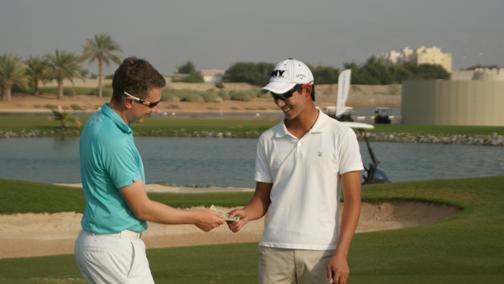 I have always been a coach who likes to see players with a system. I hate to see players just go to the putting green for 30mins or 1hr and just hit putts. This is probably why what Colin said stuck with me. It made sense, and I believe that you can have confidence that your practice time is not being wasted, and if you stick with this system for a period of time, you will start to see an improvement in your results. This is an important point. This is not a tip for a quick fix. This will not make any difference to your putting tomorrow. It is a system for you to practice that will create improvement over time.