Evolution is simple – the conditions (environmental) are constantly changing. The organism that is more adaptable survives. How does this apply to your golf game?
Gun analogy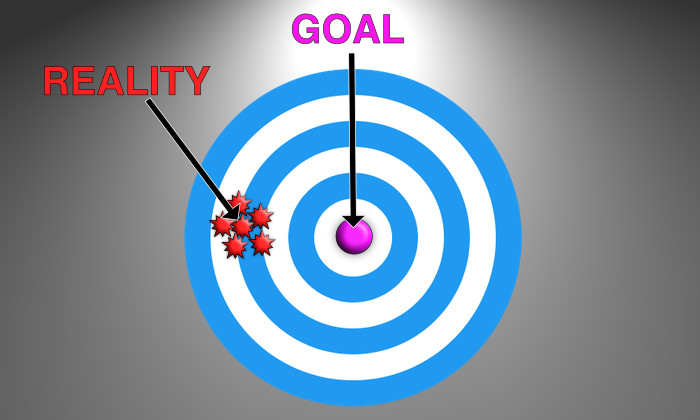 Imagine you are at a shooting range with a gun. You take dead aim at the bullseye, line it up through the sight of the gun and pull the trigger. BANG – you miss to the left.
You continue to shoot and the same thing keeps happening – it's clear the sight of the gun is misaligned.
Feel and Real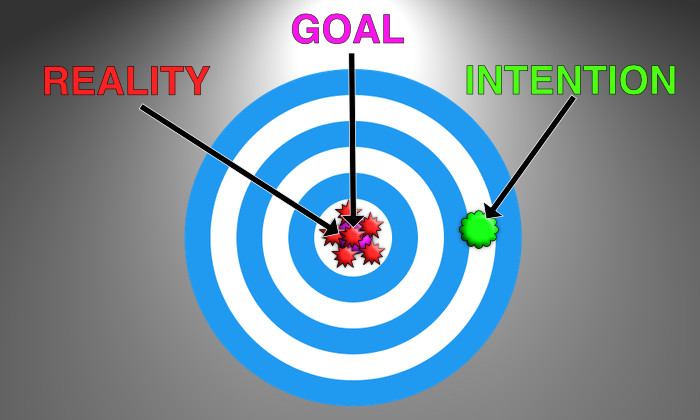 The difference between your goal and your reality can also be called the difference between feel and real. In other words, you are feeling as though you are doing something (firing at the bullseye), but your reality tells a different story. To become better player you need to understand the difference between what you perceive is happening (what you are trying to do) and reality (what you actually do).
You should:
Identify the reality (what is happening)
Make a change to shift the reality
Know how much of a change to apply
The key is to understand that when the sight of their gun is off, it is necessary to re-adjust their aim accordingly - to change intended target so that reality matches the goal.
Intention-action
Think of the sight of the gun as being your perception. A good golfer will do anything to make the result match up with their goal. This includes changing their intention.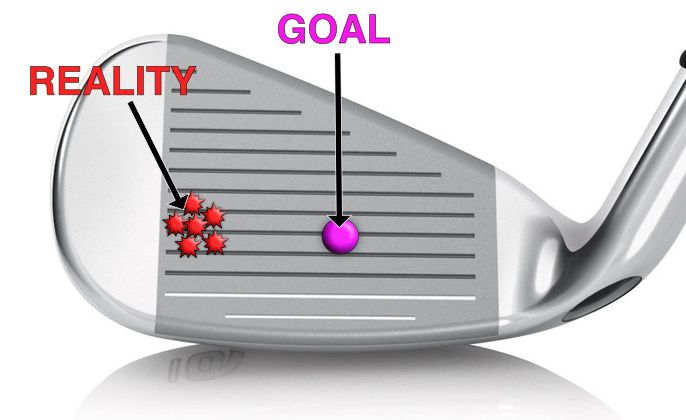 Let's name the gap between intention and reality intention-action coupling (from "Perception-Action coupling"). In order to get the desired reality you need to be constantly shifting your intention around from day to day, and hour to hour. This means – to engage in a process of constant calibration.
My first port of call in this situation is to simply become aware of what is happening. Often, this awareness in itself will start to change the pattern. But sometimes, you need to get the reality working NOW, or you are not going to get around in a decent number.
If the pattern is problematic enough, change your intention so that your reality matches the goal.
An Example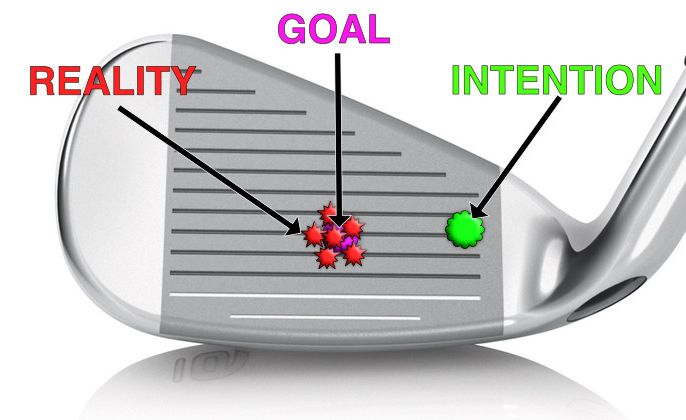 Whenever I pick up a ladies club during demonstrating in a lesson (sometimes this is the only club at hand), I am more prone to hitting it out of the toe (due to shaft flex differences). However, I learned to quickly adapt my intention whenever I demonstrated with a ladies club, so that I am able to hit out of the sweetspot.
In other words, whenever I pick up a ladies club, I intend (try) to hit the ball more towards the heel, so that the result is a sweet shot.
What is interesting is that, because I have demonstrated with ladies clubs for so long, I don't even have to think about this process anymore. I just pick up a ladies club, and my subconscious mind takes care of the rest. But, initially, it had to be a conscious intention.
The lady you brought
I think it was Jack Nicklaus who once said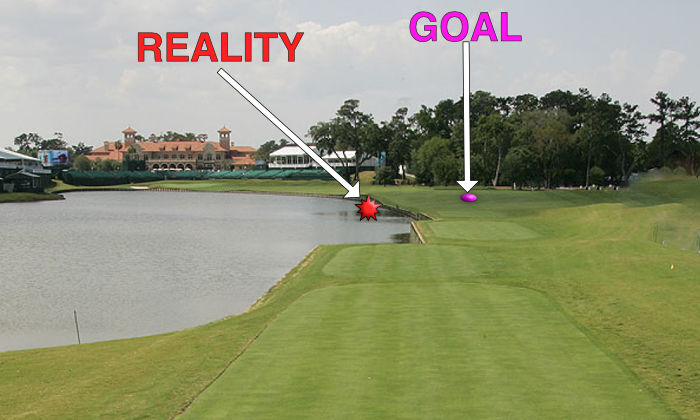 "You have to dance with the lady you brought"
What this phrase means is that, from day to day, you are going to get a different pattern (lady) turn up. Some days you will be slicing it more, other days you might be pulling it more. In fact, here is a video of Tiger Woods talking about the same thing. At a certain point he said
"I shift my aim points"
What he means by this is, instead of fighting his pattern, he just shifts where he aims (his intention).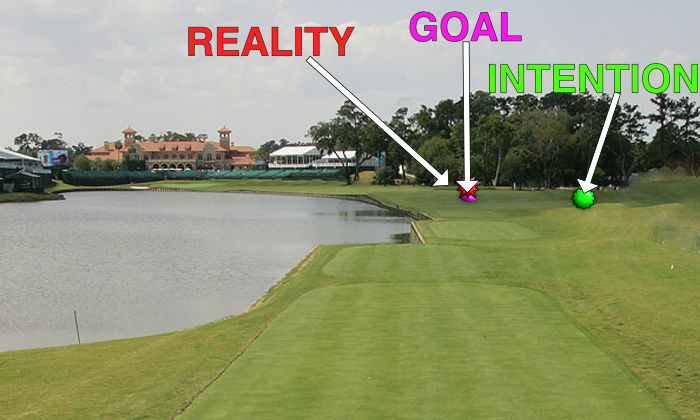 By mentally aiming at the right rough, you will tend to shift your pattern more towards that area. Remember, this is an intention shift – if you simply physically aim at the right rough but then try to swing towards the target, you may end up hitting it in the water still. Good players have (and have developed) this skill of being able to shift perception/intention around.